Meta wants to consolidate all creation tools on one platform. Therefore, the company is updating its Meta Business Suite to integrate Creator Studio tools. Impact: Meta automatically begins to switch users from Creator Studio to Meta Business Suite. Rest assured, this change isn't irreversible as Meta indicates it's possible to return to Creator Studio at any time if you don't like the new experience.
Find out below how you can use Meta Business Suite to optimize the management of your Facebook, Messenger and Instagram accounts.
What is Meta Business Suite?
Meta Business Suite is Meta's free tool that allows businesses to manage all their associated accounts: Facebook, Messenger, and Instagram. Professionals can manage all their publications (organic or paid), communicate with their audience and take concrete actions to optimize the customer experience. Go to the dedicated page to use it.
More concretely, with Meta Business Suite you can:
Get a global overview of the activities of your accounts,
Publish to your linked accounts on Facebook and Instagram,
Schedule posts or stories at times when the audience is active,
Manage your Facebook, Messenger and Instagram messages and comments,
Create automatic replies to reply to private messages,
Follow the statistics of your publications and your audience,
Create targeted ads,
Use different tools: On desktops you can use Ads Manager and Sales Manager and access professional settings.
Access the list of Meta Business Suite tools
To easily access the desired functionality in Meta Business Suite, you can hover your mouse over the left pane, which will expand to display the options. You will find the section All tools.
You have access to all functionalities classified by category:
Creation: publication, story, launch of a live…
Audience: calendar, content, company feed, messages…
Management : Page setup, billing…
Commercial break : forms, advertisements and event manager…
Analysis and reporting: statistics, advertising reports…
Sales of products and services: orders, generate income, appointments…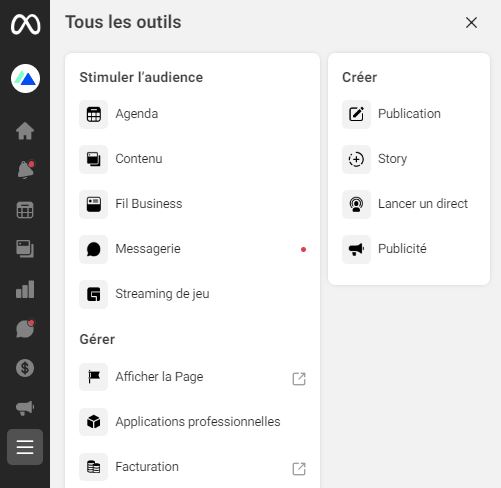 Schedule posts and stories at optimal times
On Meta Business Suite, you can schedule your Facebook and Instagram posts for times when your audience is most likely to interact:
click on Content in the panel on the left side of the screen,
Click on the top right Create a message,
Choose your account, then create your publication,
At the bottom of the editor, click Schedule,
You can choose the date and time or press . click Optimal hours to select the perfect moment to reach your audience. Meta automatically suggests time slots when your followers are most active.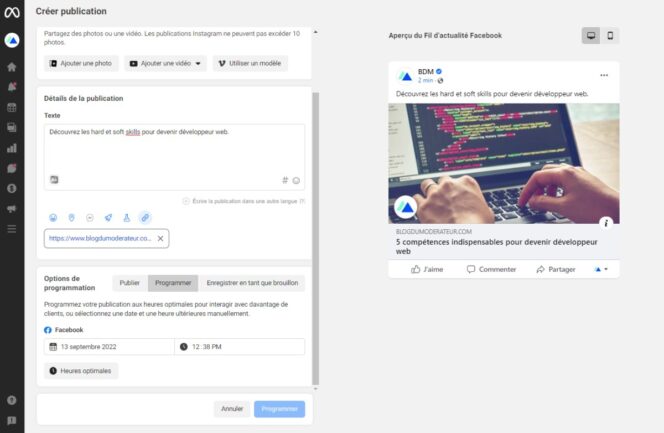 Create A/B tests to test 2 variations of a message
On the tab Contentdo you find the option A/B testing. You can create up to 4 versions by changing text, images or links. Each version of the posts is shown to a group of followers for 30 minutes. Then Meta automatically selects the version with the most comments.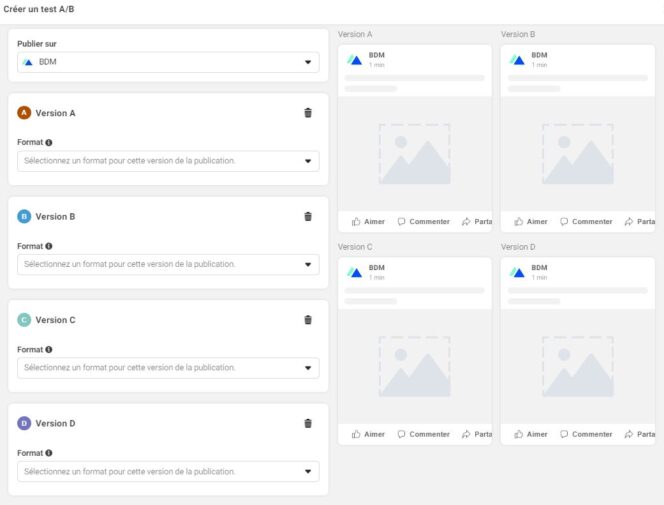 Get a quick overview of your latest posts
On the tab Contentfind an interesting option: wire and grid (just below A/B testing). It allows you to browse your latest publications and get a quick overview of stats: people reached, interactions and delivery score.
Effectively manage your Facebook and Instagram messenger
You can manage all private messages and comments from your Facebook, Messenger and Instagram accounts on the Meta Business Suite.
Go to the left part of the screen, in the tab Messages.
1. Assign a post to another collaborator
You have the option to assign a message to another colleague who, for example, will be better able to answer a subscriber's question. Under the name of the sender of the message you will find the option Assign a conversation.
2. Add tags to posts to categorize them
To the right of the message interface, when you consult a message from a subscriber, you can add a label (new customer, important, etc.) to classify the different messages received and thus make them easier to find in the section at any time labels (at the top of your messages panel).
3. Set automatic replies
On the tab Messagesclick on Automatic Replies in the top right corner of the screen, then Create an automation. You can choose from suggested message templates and customize them. This option allows you to create messages that are sent automatically when a customer asks you on Facebook Messenger or Instagram.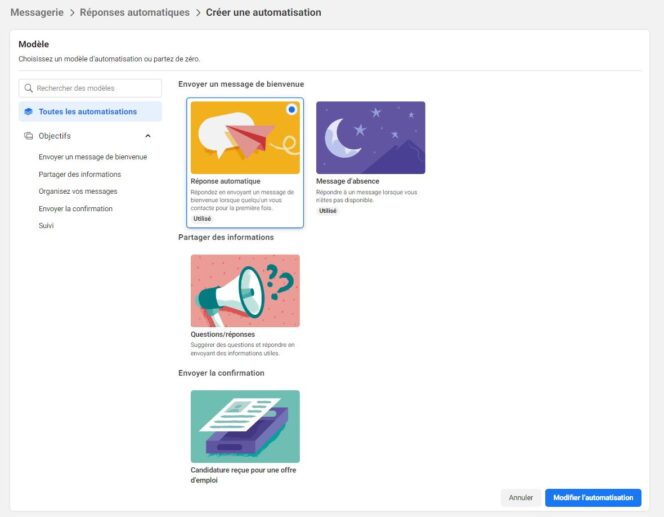 Follow the statistics about your publications and your audience
You will find many interesting insights to understand which types of content perform best with your audience on Facebook and Instagram. You can also follow competing Facebook pages.
Go to the left part of the screen, in the tab Statistics.
Here are examples of key insights you can discover in Meta Business Suite:
Audience: age, gender, location by city and country.
Benchmarking: following competing companies on Facebook.
Presentations: posts with the highest number of comments or comments, posts with the most visibility, etc.
Content : comprehensive statistics on all publications. You have the option to filter posts by type: ads, posts, or stories.
movie : performance and audience for your video content.
In addition, Meta also offers to define objectives: increase your reach or increase your number of followers. Depending on your objective, an action plan will be proposed to you.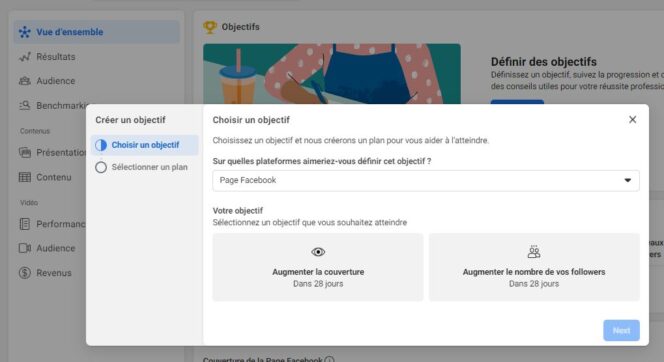 Create ads on Facebook
Do you want to increase the visibility of a publication? You can boost it on Meta Business Suite by creating a paid advertisement.
Go to the left part of the screen, in the tab Commercial break. You must first define a target, then select the publication you want to boost and finally set your criteria (audience, budget, etc.).
Good to know: You can A/B test by creating two versions of posts to see which performs best with your audience.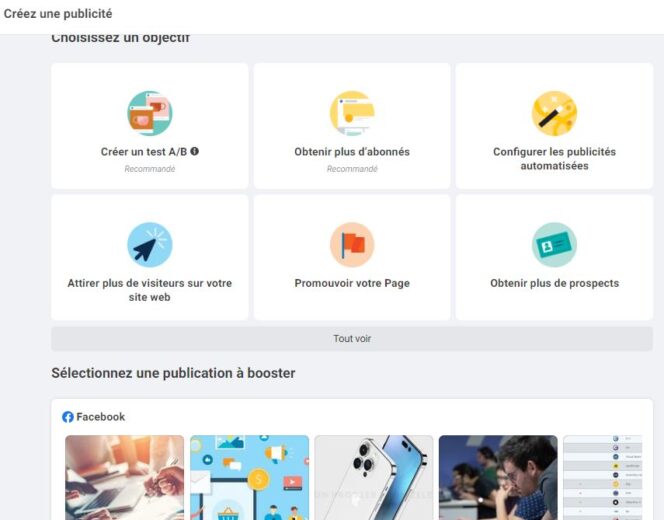 Switching from Meta Business Suite to Creator Studio
Not convinced by the Meta Business Suite? Want to go back to Creator Studio? Meta doesn't emphasize this option at all, but it is possible. On the desktop version, click Give his opinion bottom left and click Switch to Creator Studio.